So Easy, Your Grandma Could Do It.
If there is one thing I could push every single person I meet to do it is this..
What is the Key You Ask?
The world is a changing. Can you remember the days when cover letters, hard copy resumes, and handshakes were the only ways people grew their networks and largely their income as a byproduct? Now LinkedIn has almost evaporated resumes, business cards are turning into twitter handles, and cover letters are absolutely replaced by short, succinct emails. Can you remember the days when people had pensions and stayed at jobs for twenty years?
Now we stay at jobs on average 2-5 years MAX.
It feels uncertain this world we live in, with change as the only constant. We all want to progress, to grow our salary, to grow our career, to grow our online business and ultimately our paycheck.
Many still think that the key to passive income is the "Rich, Dad Poor, Dad" argument of buying houses or hard assets and continuing to invest in them and live off the residual income.
But, as you well know, the average housing price is not cheap my friends. It is not easy to build a real estate empire. In fact, as James Altucher says, I'm kind of against the whole real estate game. It doesn't seem like a good idea to me to put 60-70% of my savings into one investment that actually costs me money every year, that could potentially drop in price.
There are so many easier ways to make money.
So maybe if passive income through real estate isn't as easy as it once was, we think the key to getting bigger and better jobs or promotions is using recruiters, LinkedIn, company hopping.
Here's the problem:
you could get fired
you could get sick
your company could get sick aka go away
your industry could go away
AND THEN.. your one source of income goes to NO sources of income. How much cooler if you worked at your job because you loved it and your company? As I do. Instead of because you were scared you'd be homeless?
NOT TO MENTION - if we are talking real wealth, millionaire status, a vast majority of millionaires have 3 or more sources of income..
65% of self-made millionaires had three streams of income.
45% of self-made millionaires had four streams of income.
29% of self-made millionaires had five or more streams of income
That is because the wealthy know a secret, the secret is that you want to pull people, income, opportunities, clients to you by being sought after, not by pushing your resume, email, business card at others. And certainly not by singularly relying on one company or job.
THAT IS WHY:
I believe the KEY to that is becoming an expert in your field (full guide here).
To be an expert means people will come to you, give you opportunities. Opportunities to invest, to interview, to network, to speak, to be on TV, to write, to be on podcasts, to increase your network. Because being an expert these days truly means: "It's not what you know, it's who knows that you know it!"
Let's get technical with a few numbers for you quant minded individuals like myself, soak in these statistics:
- 94% of recruiter's vet candidates online before hiring
- These guys all make millions with only a laptop
- 82% of recruiters leverage candidates online brand to recruit managers
- 73% of 18-34 year olds found their last client or job online
- 61% of people with a website say they got their last client or job from it
If we don't embrace the inevitable shift in how we communicate, how we grow our network, and how ultimately I believe we will monetize, we are leaving a monumental opportunity untouched. But if you are any normal human, becoming a renowned expert is like a game of Chicken or the Egg, we don't know how to build a following until we have a following, and to break into the realm of expertise seems um, daunting, to say the least.
BUT Codie, how do we do that?
How do we build our brand outside of our corporate spheres, or build them both simultaneously? This question is a bit akin to how does one get hired or promoted. Read more in my post here about how to market yourself online
BUT deep breath... let's start with one small step you can do in 24 HOURS.
HOW TO create a brand for yourself on your own platform.
If you do nothing else but you go out right now I would urge you to do this.
BUILD A PERSONAL WEBSITE
Whether you are in college, high-school, in corporate America or a freelance consultant, these days you can create your own website for less than $20 and in less than 24 hours. Whether it only has your resume on it, your face and links to your social media, your mission of why you go to work each day, if you build it turns out some weirdos like us are also into it. I know guys that have grown hundreds of thousands of subscribers and gotten VC money off of a "millennial bro newsletter."
So worry less about exactly what your niche is and worry more about getting your name searchable on the airwaves. In fact Summit Series, the Millennial/Gen X who's who for entrepreneurs won't bring you in unless you are "Googleable," aka have an online presence.
I promise.. it's easy...
I will show you how I did it, and (don't tell anyone) I'm a tech moron.
I'll show you how to simply buy your domain name, throw together a pre-made beautiful website from a site like Squarespace, and update it with what you want to highlight.
Those simple steps are what led me to do all this, including red carpet interviews with Gloria Estefan, being on the Today Show, Telemundo, Forbes and Entrepreneur, and speaking at conferences in front of thousands.
You will be the 1%. In fact, I just spoke to a bunch of students at Cornell and less than 10% of them have a personal website. And they are the 1%.
When you start putting your name out into the online universe, things will happen for you, I promise. I'll break down how I built mine and taught innumerable others to do the same on the quick.
It's simple, I dare you to be one of the few that does instead of the many who talk…
OK ARE YOU READY TO BUILD A WEBSITE?
STEP 1: Pick your provider
There are tons of options, Wix, WordPress and hosting sites like HostGator, GoDaddy etc etc. I have a personal mantra which is; What if it was easy?
So that motto led me to Squarespace.. (Use code: CSANCHEZ for 10%).. Last time I check it's $5 a month. You can afford that.
Their motto is – websites, beautifully, simply designed.
It was hands down the easiest, most professional and insanely beautiful websites I could find. I truthfully only ever promote brands I use, and that I love. I was approached by almost all the sites mentioned in this article to promote theirs and turned them down.
Why? When I went to Squarespace HQ and heard their CMO (Derek Lee) explain their aesthetic and then sat down with Amory Wooden (their Head of Marketing) I absolutely got it.
Between the modern lines, industrial feel, and jaw dropping interior of their building I could see they simply breathed life beautifully simply designed.
They walk the talk. That means your website is going to make you look wayyyyy more professional than perhaps you are.
So here's the skinny.. all in one you can have a website builder, blogging platform, hosting service, and a domain name registrar. As opposed to using multiple providers. The key for me was simplistic. With a site like WordPress you have much more flexibility but it is incredibly more complex.
I kind of think of Squarespace like an iPhone, it just works beautifully, easily and without a lot of glitches.
I think of WordPress or the other sites a bit like an Android phone, it's more open architecture so if you are a pro or want to hire someone maybe WordPress is more for you. These two options in my humble opinion are the best ones.
I had my last businesses website on WordPress and what I loved about it was we had a developer/website manager and so he would handle the backend and it was infinitely editable. What I struggled with is that my personal website isn't that complex to necessitate hiring someone. I wanted easy… aka Squarespace so here's the how, now that you know the why.
How to create a website with Squarespace:
Step 1: You need a domain
(that's just www.codiesanchez.com or whatever you want your website URL to be). Go on Squarespace website and type in the domain you would like to purchase.


 
When you find the domain you like, purchase it, and Congrats! It's Yours! Was that hard?
Already have a domain? Let's move on to the next step.
 
Step 2: Selecting a template.
Squarespace has more beautiful, professionally designed templates than Kim K has red bottomed shoes in her closet. You can pick from a variety of categories depending on if you want a personal brand site, blog, photography journal, ecommerce site etc. Select the category that tickles your fancy with your type of website, and choose the template that makes you feel like a happy little clam.
After you find the template you like, start creating your website using Squarespace 14-day free trial (register here).
Step 3: Start filling in your website information.
Now that you've signed up. You will find yourself logged into a new site. Yup, two steps to you technically having a site.
On the left, you will see a navigation as below:
Step 4: Design Your Website
Now the fun begins. These navigation are the tools that make up the content of your website. Personally I like to jump around and play with this portion myself. There is very little you can do to screw it up, so I think the best way to learn is to start clicking and playing inside with changes but for you check-listers below is step by step detail.
REMEMBER - Just throw up your name, a photo and a link to your website if you are feeling overwhelmed. That is ALREADY A HUGE WIN.
Let's start by clicking at the 'Design' button.
Here you can add your Logo and Title for your website.
After setting Logo and Title for your website, you can now set the basic information.
Go to your 'Home', then 'Settings', then choose 'Basic Information'
Here you can choose your type of website, anything from Commerce, Business, Non-Profit, to Personal.
Under the site type, you can enter the description for your website like the picture below.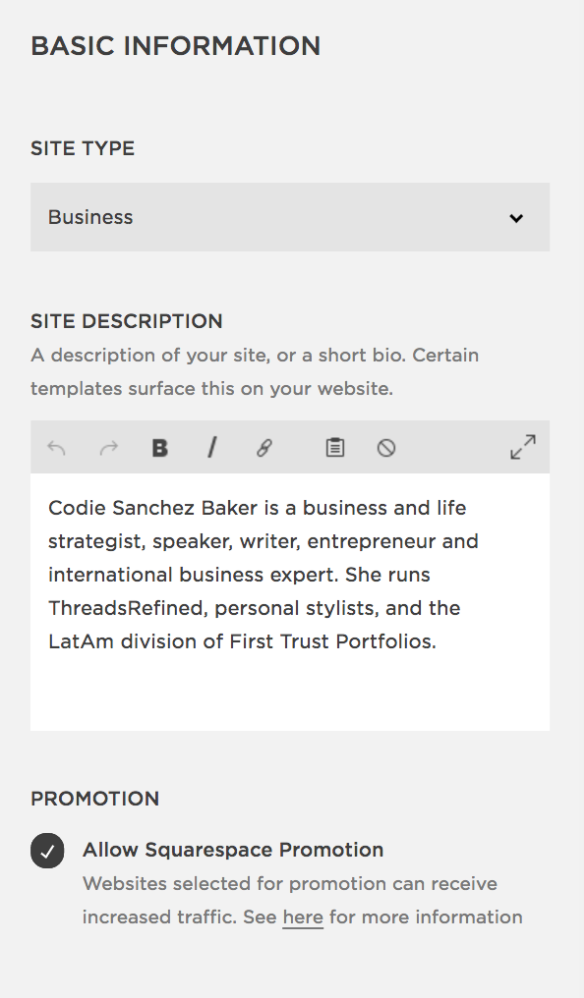 Step 5: Creating Pages
Your site consists of pages in a navigation menu and additional unlinked pages. Below is how to create new pages and organize content using features like Index Pages and Folders.
For editing and adding Pages, select "Pages" from the Home menu. Click the "+" sign next to the Navigation and to the types of page you would like to create in your site.
My website is focused mainly on my speaking gigs and my blog, therefore, the top three page features we use are 'Page', 'Index', and 'Blog'. When creating a new content, you need to choose the 'Page Title', and the format that you want for your page.
Next, you need to edit your page's settings, which include Navigation Title, Description, and the URL Slug. Clicking the 'Enabled' button means you allow your page to be seen by your audiences, otherwise, you are the only person to see it.
Index Page is a page that organize content from multiple pages into a single location. Every temple's Index Page has its own design and behavior.
Adding an Index Page is like adding a page. Except that you could drag the page down to make it a part of an Index Page, or adding pages under it.
You can then open the 'Page Settings' and choose 'Media' to update a banner image for that page.
Adding as many pages as needed by clicking 'Add Page'.
If you don't want the Index Page to be shown on your home page, simply drag it down to the Second Navigation, where it says 'Not Linked'.
Blog is where I spend most of my time. Adding a Blog is like adding a page. A Blog is a folder where you can add as many blog posts as you would like to and thus have rolling content.
Click here for our guide to creating a blog post.
Step 6: Upgrade Your Website
After designing your site, your trial page will eventually need to be upgraded.
You can upgrade the trial by purchasing Squarespace subscription here and add a custom domain. You can create as many sites as you want with a Squarespace account, however, each site has its own subscription. You can pay for your site every month or on a yearly cycle. You can upgrade your trial at anytime by selecting 'Settings' > 'Billing and Account' > 'Billing'. When you upgrade your site, your trial content will still be there.
If you want multiple people editing your site, you can send them contributor invitation by selecting 'Settings' > 'Permission' > 'Invite Contributor'
To manage your domain, you can select 'Settings' > 'Domain'. Your site has a default squarespace.com domain that was automatically generated from your first and last name when you signed up for a trial. If you want to change what appears before squarespace.com, select the domain and then edit the site ID.
You can also add a custom domain, with this, you will still see your Squarespace domain when log in your website, but your customers will only see your custom domain when you set it up as your primary one.
To set up a custom domain, you have three options:
If you have an annual plan, you can register a squarespace managed domain, and the first year is free.
If you don't have an annual plan, you can buy the domain through squarespace as well.
If you have a domain with a third-party, you can use it as well.
Step 7: Connecting Your Social Accounts and Viewing Analytics
You can increase your online presence with your social accounts.
To do this, Select 'Connected Accounts'
Then, click on "Connected Accounts" and add your social medias account like I did my below. The default icons will then appear in your headers or footers. With my template, it appears at the footers.
Another way to manage your site is through data on traffics. A new site does not have any data yet, but overtime, you can view it through 'Analytics' in your Home menu.
Step 8: Start Promoting this Bad Boy
You can promote it on your Instagram profile, here's our guide on how to build your IG up to do just that. You can promote it on twitter as we do here. Or on Facebook as we do here.
Remember, your goal is to promote yourself as an expert. You want to build your kingdom so regardless of what happens at your company, in your industry, in life in general you yourself are sought after. That is where the power is.
Let the adventure begin…
(Start here Squarespace – use code CSANCHEZ for 10% off).
Cheers,
Codie